Solo Exhibition at The Rendezvous Gallery in Aberdeen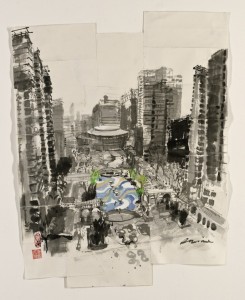 'Scotland Outside, China Within' commonly describes my mind set these days, in terms of my studio activity. It is also the title of my forthcoming solo exhibition at the Rendezvous Gallery in Aberdeen this coming Spring. This exhibition will combine new Beijing & Xucun paintings inspired by my recent research in China in 2013 juxtaposed with work based on the beautiful North-East and South West coasts of Scotland. The exhibition runs from March 8th to April 5th.
The Gallery, and the Writing sections of my website have all been brought up to date this month,whilst  I am especially pleased to present a preview of 'Diary of Life' documentary  by Susie Song for CCTV in the Film section.
I am beginning a new Artist's page in Facebook, which will feature more news of day to day studio activities ,views from The Bridge, Ipad drawings and so forth. I will add a link when it is up and running.
Signed copies of the exhibition publication from 'Walk Through Resonant Landscape' can be purchased for £12 + P& P. contact me here to arrange payment and postage. 60 pages of colour pictures and essays in English and Mandarin.
Artist-in-Residence for the 50th anniversary of the Forth Road Bridge
The Forth Estuary Transport Authority ( FETA) have commissioned me this year as their Artist-in-Residence to mark the 50th anniversary of the Forth Road Bridge. Activities will include the production of a limited edition commemorative print; large scale drawing, film and sound research, culminating in the exhibition 'Zero to Fifty: The Road Bridge Diaries' which will open at Hopetoun House in South Queensferry during the Edinburgh Festival and be a key event for the Forth Bridges Festival in September 2014. An extended interview recorded in December 2013 relating to the Bridge Residency can be heard through 'clips' section of the BBC Radio Scotland Shereen programme on the BBC website.