In June 2018 we moved house after 33 years living in Edinburgh. Leaving the capital city of Scotland to live and work in a village in rural Fife is a bit daunting but very exciting and feels like positive change.
Plans are afoot for a large custom designed studio built in the garden but until then art activities will happen between the Edinburgh studio and our garage in Fife!  As you can imagine I have been somewhat distracted by all this activity and so apologise for the lack of communication via my website.

Site for the new studio
Moving Mountain Monoprints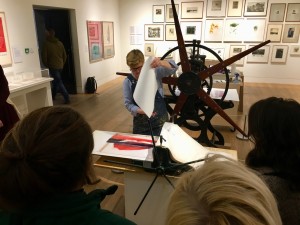 Inspired by last year's trip on the Norwegian Hurtigruten ship sailing through the Lofoten islands I created a series of 'Moving Mountain' monoprints, a part of the live printmaking event during the 'Ages of Wonder' exhibition at the end of 2017, which were subsequently exhibited in the Academicians Gallery of the Royal Scottish Academy in February/ March this year.  Two of the best of this series have entered the permanent collection of the RSA and are currently on tour with editioned etchings by other printmaking members of the RSA: Delia Baillie, Stuart Duffin, Paul Furneaux, Jessica Harrison, Marion Smith and Frances Walker.
When this exhibition comes to Gracefield Arts Centre in November I will be running a one-day monoprinting workshop – please contact arts@dumgal.gov.ukfor booking information.
From the Concrete to the Sublime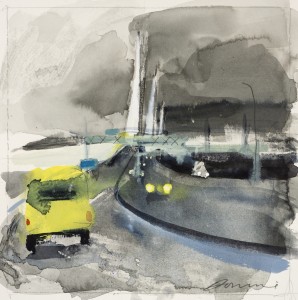 Those of you who know of my interest in drawing the Forth Estuary Bridges may have caught sight of my new pictures of the Queensferry Crossing in From the Concrete to the Sublime – a fascinating group show curated by Derrick Guild at the Scottish Gallery in June this year.
New Day Crossing, study II 2018
Depth of Field – until August 18th 2018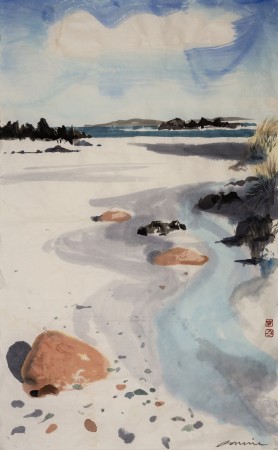 During the stormy months of February and March this year I visited the island of Iona and the  Ardnamurchan Peninsula to make initial studies towards the completion of large watercolours  currently being exhibited in Depth of Field at the beautifully sited Tatha Gallery in Newport on Tay until August 18th alongside the work of Helen Glassford and Paul Furneaux
We will be giving a talk there about our work in the gallery, in conversation with fellow artist and gallery director Helen Glassford, on August 5th 11am -12noon
'Three Calm Pink Stones, Iona'
Watercolour on yuan paper on silk 2018
PPSSA at Wall Projects, Montrose
As one of the 10 past presidents of the SSA (Society of Scottish Artists) I will be exhibiting work in PPSSA at Wall Projects in Montrose which will see the launch of a brand new annual Presidents Prize for the SSA  from August 10th to September 1st
Planes,Trains and Automobiles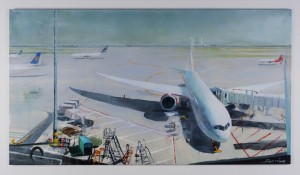 Perhaps my Anatomy of Haste Festival Exhibition at the Scottish Gallery last year has inspired the curatorship of this photography show Planes, Trains & Automobiles at the Scottish National Portrait Gallery; I have been invited to give a lecture about my work in the context of this excellent collection at the Hawthornden Lecture Theatre at lunchtime on August 21st and look forward to seeing many of you there during the Edinburgh Festival
'Pudong Pacific' oil on Canvas, 2017
The publication Anatomy of Haste which accompanied last years Festival exhibition at the Scottish Gallery is now at last available to buy via this website, and those of you with an Estuary Catalogue from 2015- hold on to it- now entirely out of print and so getting more valuable daily!
2019
.. And finally  to announce representation of my work  in London by the gallery  Panter and Hall where I will be having my first London solo exhibition in 20 years, opening on April 30th2019. More about the progress of that work and the new studio-to-be in the next update…