Countdown to the 50th Anniversary Bridge drawing adventures…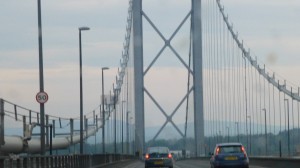 I am often asked…"What is involved in being an artist for the Forth Road Bridge?
Well it is turning me into a complete bridge obsessive! The Forth Road Bridge is a vast structure, and being a normal human sized artist, so much of what I am doing is trying to find ways of communicating visually the contrasting intensity of scale in this engineering endeavor spanning 2.5 kilometers of the Firth as well as exploring the act of crossing with all the powerful symbolism that implies.  Meeting all the Bridge staff, building a project team, making initial research drawings, exploring up, down, under, back and forth, gathering film and audio footage, intense printmaking sessions – these are just a few things that have kept me busy during the last few months.
All this leads to the start of the actual 'residency' aspect of the post which commences on the 16th June for 4 weeks.  I am based in a temporary studio space under the  Side Tower on the North Queeensferry side.
Dates for open drawing/photography sessions for visitors to the site will be advertised as well as up to the minute blog posts facilitated by zero to fifty curator  Lynne MacKenzie. Keep up to date with all this and more by clicking here and following the links.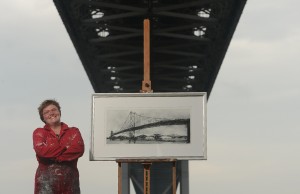 The commemorative 50th anniversary print 'The Art of Crossing' is now launched and available for purchase. Proceeds from the sale of this work will go towards helping to fund the Forth Bridges Festival which runs from September 4th – 13th 2014.
Special request! As a part of Zero to Fifty, I am gatheringinformation about people's memories or stories relating to crossing the Forth. Anything from childhood to the present day: drawings, scans of pictures, photocopies, texts, emails, poems, anecdotes, imaginings from childhood… Please can you email these to me through this website, so that I can include your stories in exhibition diaries. Thank you!
The results of this summer of activity will be revealed in my exhibition:
Zero to Fifty: The Road Bridge Diaries August 9th to September 13th at Hopetoun House