Last chance to see Shared Vision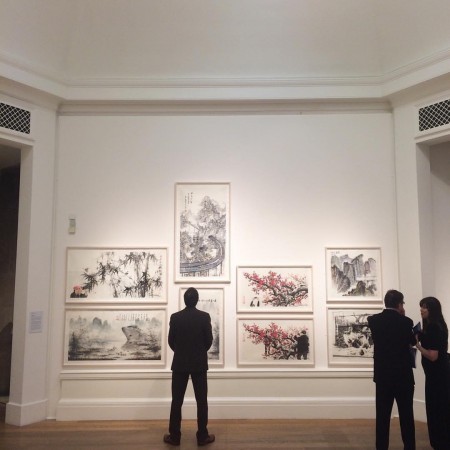 This April I have been painting in my studio for a major exhibition in 2017 but in the meantime my Shared Vision wall of eight works can be viewed as part of the 190th Royal Scottish Academy Annual Exhibition. This set of appropriated ink paintings were featured in the touring show of the same title, which opened at Stirling University in September 2015, then toured to Robert Gordon's University in early 2016 and can now be seen in Edinburgh. Open until May 25th (admission £5/£3; free entry on Fridays)
East to West
Downstairs in the RSA Academicians Gallery further works from my exhibition tour can be seen. Open until May 15th (entrance free 7 days a week)
Open edition inkjet Print
Such has been the interest in this image from the exhibition I have launched it as an open edition inkjet print on archival paper; each print is numbered, signed and stamped with a hand carved cherry blossom seal. Click here for further details and to see a short film from the studio completing some of the new prints.
The Bankhead Studio Collective
21 May – 5 June 2015
Sat, Sun, Mon 10am-5pm,
Tues-Fri 12-3pm or by appointment.
Bankend, Kirkgunzeon, Dumfries and Galloway DG2 8L
In May I will be a part of the annual Dumfries and Galloway Spring Fling as invited artist with the Bankhead Studio Print Collective in the beautiful village of Kirkgunzeon. The work of six printmakers will be featured in this beautiful converted barn, the former studio of Archie Sutter-Watt RSW 1915 – 2005 along with some retrospective works by the master himself.
Cupar Arts Festival  2016
international Festival of Contemporary Visual Art  18th to 25th June
As one of the invited artists to Cupar Arts Festival 2016 I am soon to commence work on this installation in a section of the former Sheriff Court Building. In this new work Gaps, Distortions and Downright Lies, I will attempt a complete re-configuration of space, in drawing.
'If the art of drawing is to be viewed as another danger sport, then you will have come to the right place'
There is an amazing line up of artists involved in this year's Festival 2016, including but not only Charles Avery, Juliana Capes, Pier Guiseppe DiTanno, Juliette Losq, David Faithfull, Rachel Maclean, Jenny Smith and Anthony Schrag.
Put the dates in your diary now!
If you would like to receive news about future exhibitions and updates please click here.