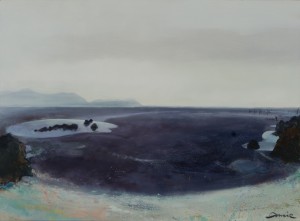 Here are two oil paintings on view currently at The Rendezvous Gallery in Aberdeen until the April 5th. 'Scotland Outside, China Within'. The painting 'Thirty Mile Beach' has been recently re-worked – spot the sublimely happy dog walker heading past the Salmon nets on the sand and mud flats of low tide on the Solway Firth.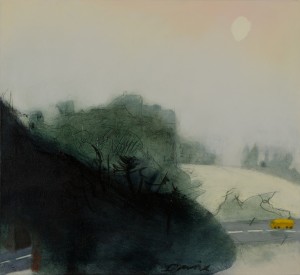 'Lemon Sun' is based on a mist & smog walk on the Great Wall, one of three  new Great Wall paintings.
NanBei, as seen in 'Walk Through Resonant Landscape' at the RSA , has recently been beautifully installed into its new permanent  home in the Pathfoot Building at Stirling University It is wonderful to be a part of their amazing collection of Scottish art which is so worthy of a visit. I am here with the painting in its glass case with Stirling University collections Curator Jane Cameron.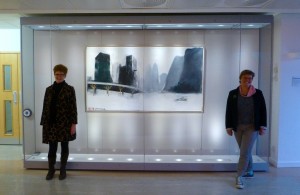 In the meantime I am working at the Thames Barrier Print Studio on the commemorative edition of etchings for the 50th anniversary of the Forth Road Bridge. More news about that later !