Shared Vision
by Kate Downie
Ink painting, prints and drawings
20th September to 23rd December 2015
As a part of 'Reflection of the East'
University of Stirling Art Collection
Pathfoot Building, University of Stirling FK9 4LA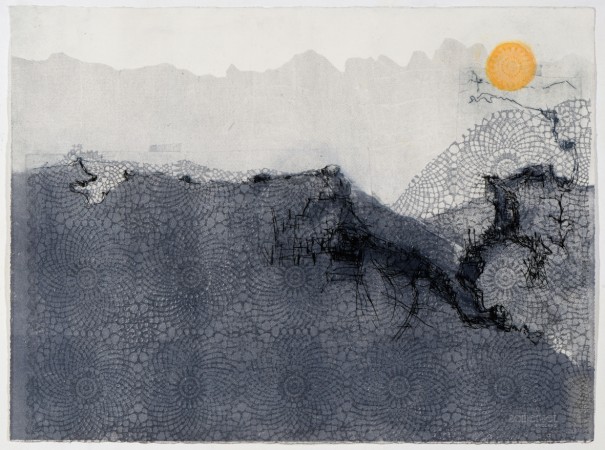 Multiple Sunset on the Dragon Wall, mixed media print 2015
It is exactly 5 years since the artist set foot in China for the first time, as recipient of a William Gillies Scholarship award from the Royal Scottish Academy. This exhibition brings together some of the work made over those years, including the controversial  'Shared Vision' ink painting series and a set of new mixed media prints inspired by walking the Great Wall.
In late September Kate Downie returns to China for further research but will return in time to present an ink painting Event & Workshop with artist Chi Zhang as well as the Autumn Lecture on November 11th
After December this exhibition will travel to Robert Gordon's University in Aberdeen. For further information  email art.collection@stir.ac.uk and for bookings click here
Reflections of the East : On 20th September 2015 the University of Stirling Art Collection launches 'Reflections of the East'. This is the umbrella title for several exhibitions showcasing the work of five artists who share a creative relationship with China: Kate Downie, Emma Scott-Smith, Fanny Lam Christie, Norman McLaren and Ding Fang. During the course of the autumn there will also be other related events such as art workshops, a tea ceremony, film screenings at the MacRobert Arts Centre on campus, and also the Art Collection Autumn Lecture, which will be given by Kate Downie.
Opening times: Monday to Friday 9am till 6pm
Open at the weekends by arrangement between 11am and 3pm