New editions!

I am delighted to announce the launch of three new editions available to purchase direct from the shop section of this website
"Sutherland Revisited' is an open edition inject print based on a large ink drawing (101 x 150cm) I made near Clachtoll in Sutherland earlier this century. I reworked the surface with late summer watercolour upon my return to Sutherland just before lockdown,  and can now be  purchased here  and enjoyed on a more domestic scale!
Clogherhead Strand – A Print for Ukraine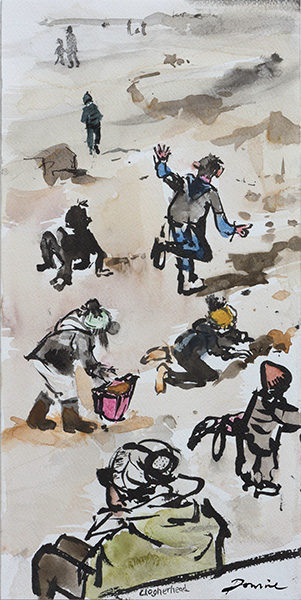 I was lucky enough to be on holiday in Ireland with my partner Michael, at the same time as the Ukrainians were experiencing their first awful weeks of the Russian invasion. We experienced glorious hospitality everywhere, a mixture of seeing old friends and making new ones, visiting cultural institutions and walking in nature on both sides of the Irish border.
On our last day in County Louth, we were taken to Clogherhead Strand, on the edge of the Boyne Estuary – after a windswept walk at low tide, we paused for coffee in the outdoor Strand café to catch our breath. Nearby, children were doing what children on beaches do the world over – they play, they dig, and jump and build wee sand castles for the sheer joy of knocking them down and starting over again.
I could not help but make this small ink and watercolour drawing, sketching the very action of their joyous freedoms expressed so purely.
As a place of freedom, it seemed appropriate to offer this picture 'Clogherhead Strand' as an edition of 60 inkjet prints on quality archival paper, for sale at £75 each (+ £10 Postage and packing) with 100% of the sales income going towards charities that directly help Ukrainian citizens in the midst of war but also here in Scotland. 40 prints are available in Scotland, and 20 in Ireland.
It is with thanks to the kind generosity of Edinburgh Arts Picture Framers who made this beautiful edition pro-bono in order that maximum funds can reach those who need them most. Exhibition sales as follows: 20 prints on sale here, 20 prints on sale via Edinburgh Arts Picture Framers
All funds received (apart from Postage & Packing) will be sent direct to Ukrainian support charities.
These are the  two very deserving charities I have selected:
https://www.thewelcoming.org/ukraine-appeal/
http://www.medbat.org.ua/en/about-pfvmh/
Study for 'Three Bridge Evening'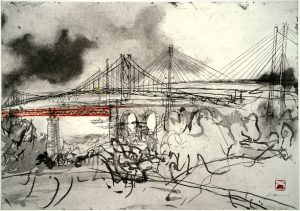 Here is my  latest etching, completed in February '22 in Glasgow, inspired by the confluence of  bridges over the Forth Estuary, each crossing representing three different centuries of  design. From my particular viewpoint (as seen from Carlingnose Point in North Queensferry) they appear to intermingle in a distant perspective of transport options spanning the river.
This limited-edition print has just been co-published with Glasgow Print Studio.  in collaboration with master printer Stuart Duffin. The print can be viewed/purchased directly from this website and also seen alongside a  retrospective selection of my Bridge prints on show until April 30th. It was a great experience to return to collaborating and  exhibiting at GPS after the lockdown and I look forward to many new projects with them later this year.
Conversations with Joan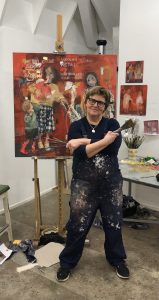 Many of you might know that for 15 weeks from October 2021-February 2022 I was deep inside a fascinating project which came about through my desire to create an appropriate homage to the work and life of Joan Eardley, an amazing UK painter who was based in Scotland and has been a profound influence upon so many artists, myself included.
2021 marked the Centenary year of her birth, and you can read all about my attempts to create a completion of her unfinished painting 'Two Children' here https://glasgowmuseums-exhibitions.co.uk/joan-eardley/
This link takes you to the blog which covers the whole studio process in my own words & pictures, from start to finish. I am delighted to announce that Glasgow Museum has now purchased my painting 'Four Children 1962-2022' by Kate Downie RSA (after Joan Eardley RSA) for their permanent collection.  More news to follow about viewing the painting in a public gallery.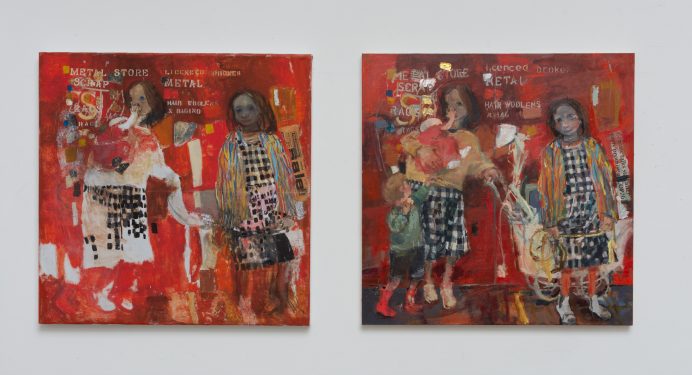 Exhibition News
My work can currently be viewed at the
196th Annual Exhibition at the RSA https://www.royalscottishacademy.org/exhibitions/forthcoming/
Until June 12th 2022
New Acquisitions at the City Arts Centre https://www.edinburghmuseums.org.uk/whats-on/incoming-new-acquisitions-city-art-centre
Until 28th May 2023
Kate Downie Printing Bridges 1999-2022 https://www.gpsart.co.uk/Home/DisplayExhibition/241?year=2022
Until 30th April 2022
Festival Lecture at the City Arts Centre
"The Art of Crossing' August 3rd 2pm
I will be presenting a lecture 'The Art Of Crossing' live at the Edinburgh Festival to coincide with 'Incoming – New Acquisitions' Exhibition
Tickets are free but booking is essential
https://www.edinburghmuseums.org.uk/whats-on/kate-downie-art-crossing-0