Birchtree Studios 2020
This time last year the very spot where I now sit was a muddy construction site with diggers and builders  – One year later year it is a fantastic warm workspace full of light and possibilities.  Last July we celebrated its completion with many friends and since then I have been trying to sort out all my art in the new space and have enjoyed making new work..
A New Teaching Programme for Autumn
This year I am  delighted to launch a new course of mentoring and tutorials at Birchtree Studios – 'Introduction to a Painting-based Studio Practice' commencing October 9th 2020. I am looking forward to working with six keen students of all ages! All information about the course can be seen here.
 Micro Residencies at Birchtree
Last week while I was working in a stormy corner of the Isle of Mull, artist/maker Su Vernon was here enjoying the very first Birchtree Studio micro-residency, using the space, the peace and quiet to complete her PhD and develop some new work.  New dates in September and October 2020 can be seen here.
Before the teaching gets underway however, Michael & I will be welcoming people from Fife and beyond to Birchtree Studios over 3 days from 8-10th May 2020 for the Open Studios North Fife event OSNF, becoming part of our local artists' network and sharing our space, ideas and art with the visiting public along with a 100 strong network of artists and makers in this area
Outside Edge
Outside Edge is an exciting collaborative project happening between Scotland and China, involving residencies, travel and exhibitions. It started life in  2009 sparked by a meeting of minds between international Brighton-based  artist Helen Goodwin and myself, stretching to China in 2013 with the meeting of two impeccable Chinese Ink Painter/artists Xu Yun and Hong Shen. All three were able to join me in September 2019 in this beautiful, remote and resonant outside edge of Mull (an island off the North-West coast of Scotland)  for a week long brain- storming of ideas, drawings, walks and creative responses to this wild land/seascape and to each others' art.
It was a thrilling week;  battling the elements, finding common ground and forging new territories in an ancient coast redolent with historical narratives be they  geological, human or animal.  We four artists were due to re-meet this very week in Beijing to commence Phase II of Outside Edge: 'Carsaig to China' for a further collaborative residency and exhibition of our Carsaig work in the coastal city of Qingdao.  Unfortunately this  has had to be deferred until September 2020 owing to the COVID-19 Virus. However, the Royal Scottish Academy has invited the OUTSIDE EDGE exhibition to tour from Qingdao into the Finlay Room of the RSA in the autumn  2021 so that those unable to visit China later this year can see Carsaig re-imagined by us all next year in Edinburgh.
Printmaking 2020
Back in Fife, new printmaking projects are soon to be launched. I am delighted to announce a research-funding award from VACMA (Visual Arts and Craft-makers Award/Creative Scotland) towards developing  my screen-printing skills  at Glasgow Print Studio to make a fresh series of ' Fife Journey Prints' celebrating the landscape & human interaction as experienced through local train travel.
Plans are also afoot for a collaboration with master printer Leena Namari and Fife Dunfermline Print Studio for my latest Forth Bridge Print  (The Art of Crossing III) using 3-D drawing, film footage and cyanotype printing methods – intrigued? So am I!
I will report on this soon, in the meantime I wish you a very happy springtime.
Current Group Exhibitions
Archipelago , The Academicians Gallery
Royal Scottish Academy, The Mound, Edinburgh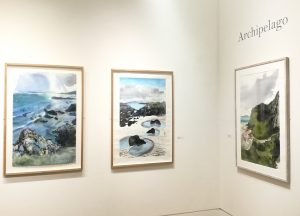 until March 22nd
21st Century Women – Backdoor Gallery, Clydebank Museum
last chance to see the 'Women on a Train' paintings.
2nd March – 20th April
RSA 194th Annual Open Exhibition
First sight of the collaborative Carsaig Cave Painting
28th March – 3rd May
---